Workshop "Doing Biodiversity"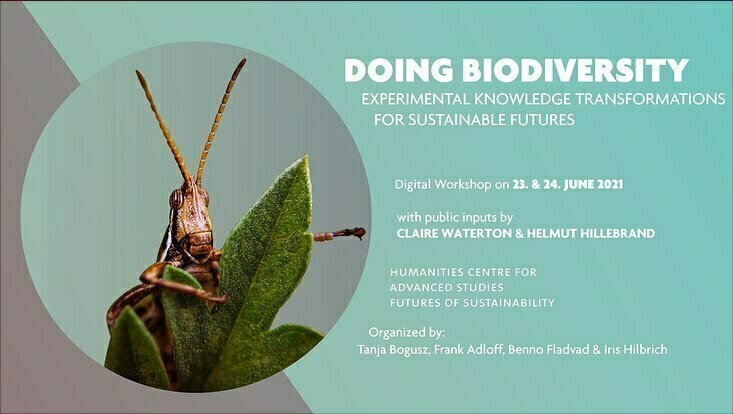 Foto: E. Boßerhoff
When: Wed, 23.06.2021 6:00 PM until Thu, 24.06.2021 4:00 PM
Where: Digital
We cordially invite you to the digital workshop with Dr. habil. Tanja Bogusz on 23-24 June 2021:
"Doing Biodiversity. Experimental Knowledge Transformation for Sustainable Futures"

Programme:
Night Session, Wednesday, 23 June 2021, 6:00-8:00 p.m.
in English language
6:00 - 6:10 Welcome and Introduction
6:10 - 6:40 Input Helmut Hillebrand (Oldenburg University)
6:40 - 7:10 Input Claire Waterton (Lancaster University, UK)
7:10 - 8:00 Discussion
Workshop, Thursday, 24 June 2021, 9:30 a.m. - 4:00 p.m.
notably in German language
9:30 - 10:00 Welcome, explanation of the workshop formatting
10:00 - 10:30 Cross-disciplinary "Speed-dating"
10:30 - 11:00 Short reports in the plenary and short coffee break
11:00 - 12:00 Input and discussion on cross-disciplinary research on biodiversity;
explanation of the format "Learning Cabinets"
12:00 - 1:00 Lunch break
1:00 - 2:30 Cross-disciplinary "Learning Cabinets"
2:30 - 3:00 Coffee break
3:00 - 4:00 Report of the results given by the hosts, plenary discussion, outlook
The three "Learning Cabinets" will be moderated by:
Moritz Holtappels (Alfred-Wegener-Institute Bremerhaven)
Vanessa van den Bogaert (Ruhr-University Bochum)
Stefan C. Aykut (Universität Hamburg)
Call procedure and criteria:
As the workshop is experimental and interactive, we invite you to tell us a bit about your background and motivation. Please send us a brief (no more than one page) info about
a) your area of research and/or activities
b) your motivation in participating in the workshop
c) possible experiences in inter- and/or transdisciplinary work/research
d) your expectations on the outcomes of workshop.
Deadline:
June 6th 2021; Feedback until Mid-June
Registration for the Night Session von 23 June 2021 and Call for Contributions for the Workshop on 24 June 2021:
Please contact us via e-mail to zukuenfte.der.nachhaltigkeit@uni-hamburg.de.
You will be sent the Zoom access details shortly before the event.
Contact
DFG-Kollegforschungsgruppe "Zukünfte der Nachhaltigkeit"
Further information