Facts and Figures
The SICSS Doctoral Program hosts permanently approx. 100 active candidates. Since 2008, more than 300 candidates enrolled in SICSS and more than 200 candidates successfully finished their PhD project.
Governance
Besides the Doctoral Program, SICSS hosts also a Postdoc Program and a Gender Equality / Diversity Program. All three programs are coordinated and controlled in the Early Career Committee ECC. Currently, the ECC has the following members:
Prof. Dr. Annette Eschenbach, Head of SICSS
Prof. Dr. Johanna Baehr, Lecturer / Advisor, CEN / CLICCS
Prof. Dr. Simone Rödder, Lecturer / Advisor, CEN / CLICCS
Prof. Dr. Felix Ament, Lecturer / Advisor, CEN / CLICCS
Prof. Dr. Matthias Hort, Lecturer / Advisor, CEN
Dr. Alexandra Franzke, Executive Head SICSS
Dr. Berit Hachfeld, Coordination SICSS, Doctoral Program
Dr. Sebastian Zubrzycki, Coordination Gender Equality and Diversity
Dr. Antje Weitz, Coordination IMPRS, MPI-M Hamburg
Dr. Ulf Beckmann, Coordination WiSo GradSchool, Universität Hamburg
Dr. Jan Wilkens, Postdoc, CEN / CLICCS
Lea Schröder, Doctoral Representative, SICSS
The ECC meets twice a year.
Statistics
SICSS is interdisciplinary: doctoral candidates pursue their projects in more than 15 disciplines. Among these are the key disciplines of Earth and Climate system sciences such as Meteorology, Oceanography, Geology and Biology but also social sciences, economics or disciplines affiliated in Humanities. Outstanding in SICSS is the co-supervision framework, that links candidates, supervisors and co-supervisors from 3 faculties and more than 10 disciplines.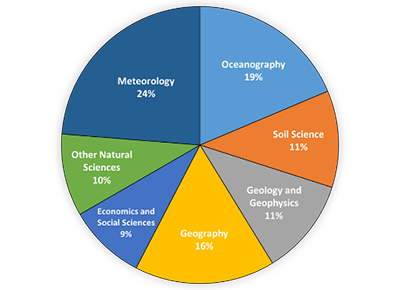 SICSS is very international: the number of international doctoral candidates that joined SICSS has grown significantly since 2008.